photo Monika Orpik
ALL THE WONDERS OF SIX LITTLE SPOONS


_________________



ALL THE WONDER OF SIX LITTLE SPOONS is a project that came to life in 2021 in Cologne (DE) on the initiative of composer and guitarist Szymon Wójcik. The ensemble is a group of 10 musicians from different parts of the world, coming from various musical backgrounds. This trans-genre and international aspect of the project allows the group to search for a common denominator that does not fit into national or genre divisions.





In the music created for this project, Wójcik looks for a balance between the precise organization of the musical material and freedom of expression, he gives up the idea of a soloist in favor of a dialogue and searching for a common language, explores different modes of deconstruction and the boundaries between noise and conventional music. He draws from various musical and artistic traditions, often, at first glance, far apart, trying to escape from labeling.
An important element of the compositions are the texts, fragments of "Tender Buttons" by Gertrude Stein and the poem by polish artist Monika Orpik, which exerted a great influence on the compositional process, thee direction and the meaning of music.

.

Szymon Wójcik - electric guitar, concept and compositions
Thea Soti - voice
Ferdinand Schwarz - trumpet
Jonas Engel - alto sax, clarinet
Victor Fox - bass clarinet
Emilia Gołos - piano
Zoe Argiriou - vibraphone, percussion
Magdalena Lorenz - violin
Jonas Gerigk - double bass
Anthony Greminger - drums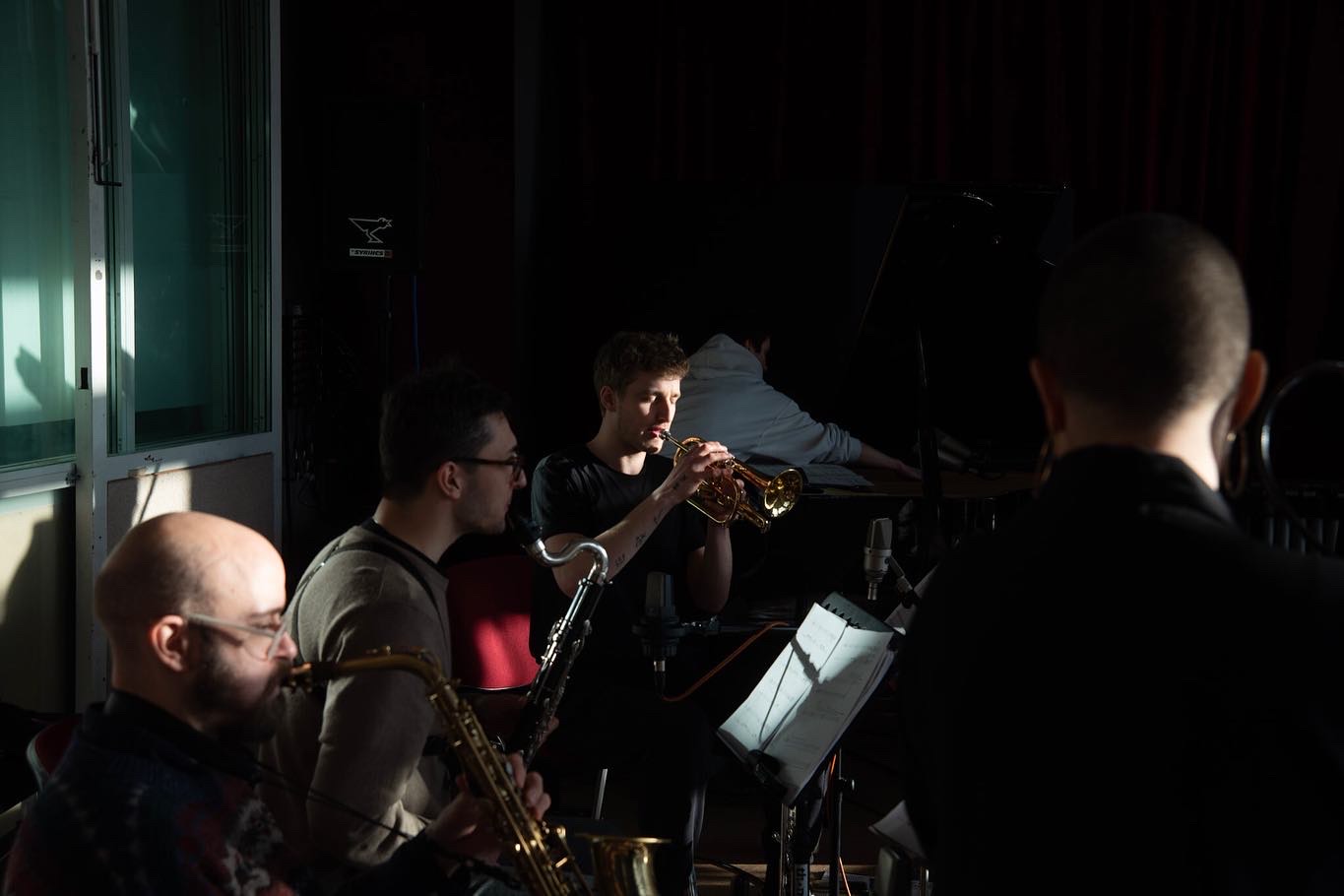 photos Ludwig Lederer
RASP LOVERS


_________________
R o m a n t i c

A l t e r n a t i v e

S c h i z o p h r e n i c
P u n k




_________________






RASP Lovers is Szymon Wojcik's project that came to life in 2018. The main assumption underlying rasp music are contrasts, oxymorons, combining elements that are far apart from each other, creating constant tension between formation and desintegration of sound structures and exploring the boundaries between noise and conventional music. Their debut album "Romantic Alternative Schizophrenic Punk" was released on 26th October 2019 on Howard Records.



.

Szymon Wójcik - guitar, compositions
Jerzy Mączyński - saxophone, electronics
Marcel Baliński - piano
Rafał Różalski - double bass
Bartosz Szablowski - drums
TRAVEL ADAPTER _________________
Travel Adapter is an artistic collective of improvisers that came to life in fall 2019. In our music we try to combine different states of consciousness and embrace two faces of our collective nature — dark-east-european-post-punk-sadness and our admiration for the fragile-beauty-of-human-beings and all other wonderful creatures.
Compact and versatile Travel Adapter can do everything at once.
The Travel Adapter is designed to connect all bipolar devices (without grounding) in over 150 countries.
Thanks to the patented All-in-one system, the adapter is easy and safe to use.
Designed in Poland.
.
Emilia Gołos - piano, electronics

Szymon Wójcik - guitar, electronics

Michał Aftyka - double bass
Bartosz Szablowski - drums
COMPOSITION WORKS


_________________



Lump (2023) —

composed for solo dance performance by YeoJin Kim;
costume design by Kora Hamm
isolated deoxyribonucleic acid (2022) —

for electronics and recycled recordings; composed on the basis of prerecorded prenatal heartbeat and the image of isolated DNA; created for the exhibition of Hubert Humka's project entitled "DIVINE"
/pliːz//stɒp/(ˈbreɪkɪŋ/ɪt/ (2022) —
for violi, trumpet, clarinet/bass clarinet and electronics;

Premiered by Ensemble Musikfabrik on 1.07.2022;

Sara Cubarsi — violin
Marco Blaauw — trumpet
Carl Rosman — clarinet/bass clarinet

photo Hans Fahr